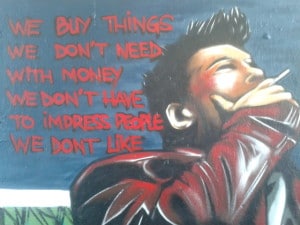 Jeder sollte seinen Weltbesserungsvogel haben. Das Gefieder darf sich über die Jahre durchaus ändern, aber es schadet nicht, wenn jeder versucht, seinen Beitrag für eine bessere Zukunft zu leisten. Oder?
Mein persönlicher Vogel ist der "globale Fußabdruck".
Ich weiß, ich nerve damit mein Umfeld ab und zu, auch wenn ich versuche, es nicht zu tun. Aber es ist eben so: Ich habe für mich beschlossen meine Möglichkeiten auszuschöpfen, um möglichst resourcensparend über diesen Planeten zu wandeln. Für mein Handy ernte ich mitleidige Blicke, mein Auto riecht für mich immer noch neu und – seit mehr als einem Jahr – habe ich meinen Fleischkonsum drastisch nach unten geschraubt.
(Verstärkt hat sich das sicherlich durch die Berechnung meines persönlichen Abdrucks anhand meiner Verhaltensweisen. Ergebnis war, wenn jeder Mensch so leben würde wie ich, bräuchten wir 3,5 Erden.)
Das ist nicht immer praktisch und meine Vorbildfunktion bei der Familie zeigt wenig Früchte, aber meinem Vogel und mir geht's prima.
Und jetzt war ich doch in Frankreich. Côte d'Azur. Monaco, Cannes und so weiter. Mondän ohne Ende. Prada. Gucci, Vuitton und hast du nicht gesehen. Und Jachten: Villen im Wasser.
Und diese Jachten haben mich ins Grübeln gebracht. Nicht die Tatsache, dass ich mein Leben lang arbeiten könnte und ich hätte vermutlich nicht mal die erste Rate zusammen. Neid an der Stelle ist mir fremd. Aber als sich der personifizierte Jetset mit dem Hubschrauber von der Jacht an den Hafen fliegen hat lassen und dort in eine Limo steigt, wurden mein Fußabdrucksvogel und ich doch etwas aus dem Konzept gebracht.
Vermutlich könnte ich ab heute dreimal täglich Fleisch essen, einen Handyvertrag suchen, der mir jedes Jahr ein neues Gerät garantiert und täglich mit dem Auto zur Arbeit fahren (und es dann gleich wieder zuhause parken) und mein Fußabdruck wäre vermutlich noch immer wie der einer Maus im Vergleich zu dem eines Argentinosaurus.
Aber – ehrlich gesagt – ich nehme es mit einem Schulterzucken, da ich es ohnehin nicht beeinflussen kann. Andererseits will aber auch ich mich nicht beeinflussen lassen, und daher gebe ich gerne auch weiterhin meinem super sturen Weltverbesserungsvogel nach. Wir sehen uns also nach wie vor an der Veggie-Theke.
PS: Picture: "We buy things we don't need with money we don't have to impress people we don't like" — graffiti seen under a bridge in France — to the unknown artist.